10 Trillion Zimbabwe Dollar Bills 10 Pack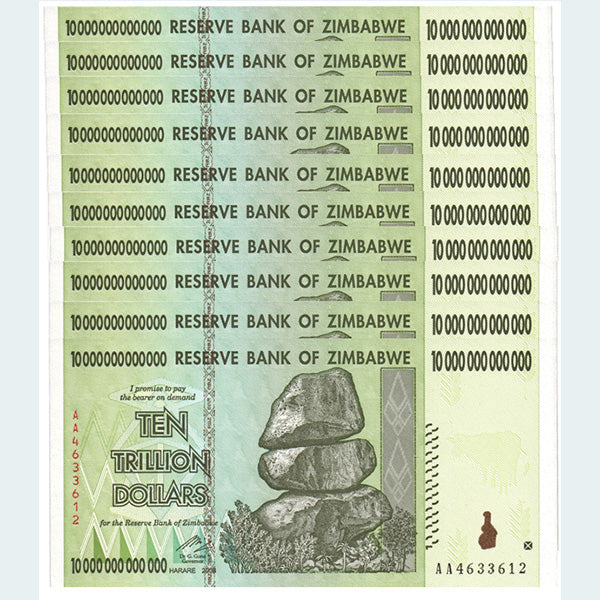 10 Trillion Zimbabwe Dollar Bills 10 Pack
The 10 trillion denomination is the note that kicked off the "trillion series" Zimbabwe notes back in 2008 and were the highest denomination printed on a currency note anywhere in the world throughout history at that time. 
This set guarantees you a pack of 10 of these notes, adding up to 100 trillion in notional face value.
Printed in 2008, AA series, these notes were the very first in Zimbabwe to crack the Trillion dollar denomination mark and were rapidly followed by the 20, 50 and 100 Trillion denominations as hyperinflation raged between 2008 and 2009. With such a short time in circulation, much of our stock of the 10 trillion denomination is still sealed in federal reserve bank shrink wrap right before we package and ship to you.
Each note you receive will be in mint, UNC (Uncirculated) condition series AA, 2008 printed notes. And at Templeton Collectibles, we also guarantee the notes in your 10 pack will be sequentially numbered.