500,000 Vietnamese Dong Banknote UNC
$54.95
$58.95
saving
$4.00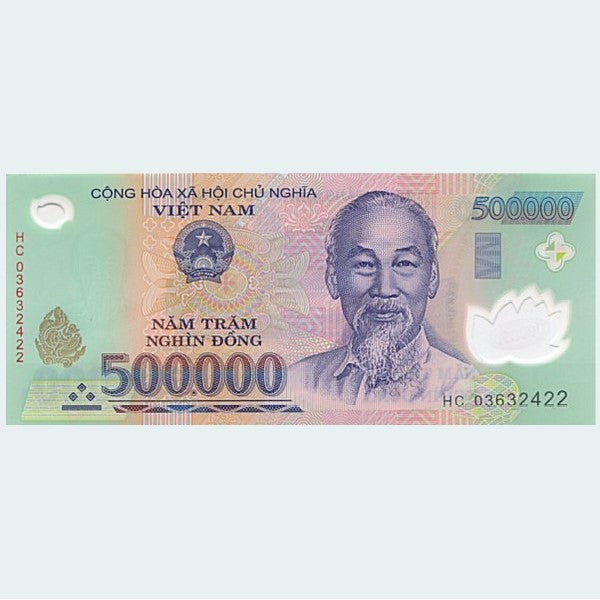 500,000 Vietnamese Dong Banknote UNC
$54.95
$58.95
saving
$4.00
This item is for 1 banknote of Vietnamese Dong in the largest 500,000 denomination. 

Some vendors may advertise a certain face value of dong for sale, but then may deliver unverified or dirty street notes in a mixed bag of small denominations of their choosing that add up to that advertised face value. 
At Templeton Collectibles, we understand that our customers know what they want, want the largest denominations and want the best archival quality for their collections. When we advertise a 500,000 dong note, that is what we deliver, not a mix of smaller notes.
In addition, we do the work of authenticating notes before we ship them to you.  Each banknote has been individually inspected and verified under UV light and high magnification to be authentic currency issued by the Government of Vietnam.
These currency notes are of the highest quality in MINT, CRISP and UNCIRCULATED condition. 
As such, if you order multiple notes from us, you will receive SEQUENTIAL serial numbered banknotes for maximum collectability and further assurance that you are receiving original central bank stock.
Limited quantities available. If you are having trouble adding notes to your cart, try a lower quantity until it works, or check again later. We are in the process of authenticating and approving more notes for sale on a daily basis.
If we are low on 500,000 dong notes, we also now carry the 200,000 denomination dong notes, as well as the 100,000 denomination dong notes.

* Purchases of Vietnamese dong are limited to $1,000 USD per person, per day.